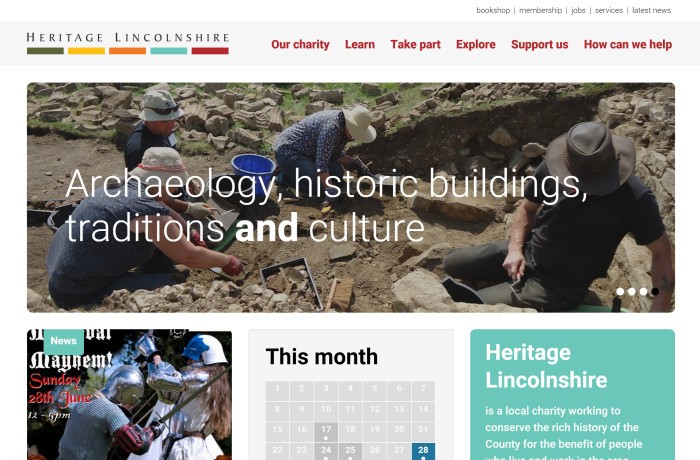 Lincolnshire
During the Spring of 2015 we worked with the Heritage Trust of Lincolnshire to revamp their online presence:
The previous website was difficult for staff to manage, had a dated design, wasn't responsive on mobiles and tablets and the fixed, restrictive page layouts meant content was not organised in an intuitive manner and lacked visual appeal.
We created:
wordpress content management system
so that all staff could easily update web pages
online shop
to sell books online for the first time
events system
including calendar, maps and ticket booking
historic sites map
with clearer visitor information
join and donate forms
intelligent processes to sign up members and take donations
friendly, clean, colourful design
plus flexible page layouts
The process involved:
requirements workshop
on-site staff training
information architecture
content taxonomy
wordpress and magento build
content production
domain registration and changeover
redirection and user journey planning
We also used our extensive experience of online learning resources to recreate the organisation's education section, making it more accessible and sustainable.
"The website is fab, thanks :O)
Everyone's over the moon with it!"
Beverley Gormley, Heritage Lincolnshire
The site was built on Craven Digital's website hosting servers using a new domain name and switched over on launch day in April, with a whole raft of careful redirects and content planning put in place to maintain search engine ranking and make sure visitors were not left with error pages.
"Thanks for all the hard work getting the site together – it is great when a transition works so smoothly as this one has."
Mark Dymond, Network Administrator, Heritage Lincolnshire
We continue to host and care for the site on an ongoing basis, always on call to help the team with any technical issues, content ideas and advice.