Reducing our environmental impact
last audited October 2020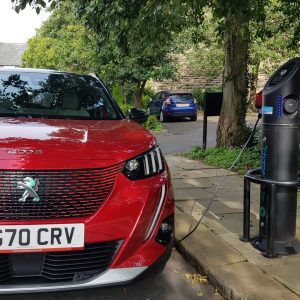 zero emissions from travel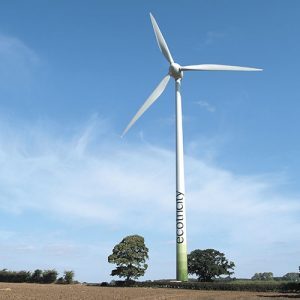 100% renewable energy use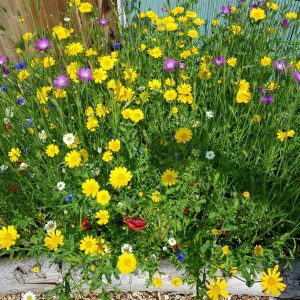 creating habitats for wildlife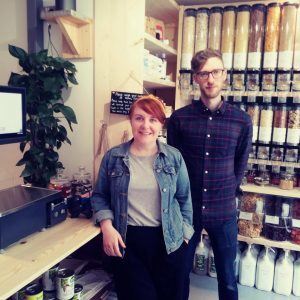 eco-friendly, locally sourced supplies
Zero emissions from travel

In 2020 we purchased an electric company vehicle, powered by 100% renewable energy (supplied by Ecotricity).
In 2020 we purchased a company bike. We walk or cycle to clients within a mile of our studio.

Zero emissions from our office

Our electricity has come from the UK's greenest renewable energy supplier (Ecotricity) since we started the business in 2014.
No fossil fuels are used in our studio for heating or power.

Zero emissions from our data centre

We use the 1st carbon neutral hosting company in the UK, certified to PAS 2060, who use hydropower renewable energy schemes to displace any fossil-fuel-generated electricity used in their Manchester data centre.

Minimal pollution
Recycling

All paper and card is composted on-site or recycled.
Any electrical equipment is sent for recycling at the end of its life.
All batteries are recycled. Where possible we use rechargeable batteries (which themselves are made from recycled batteries), bought from Harry Garlick in Barnoldswick.

Campaigning and activism

Our phone bills are used to invest in biodiversity restoration (via Ecotalk).
We support environmental organisations including Greenpeace, Friends of the Earth, Extinction Rebellion, Ethical Consumer, the Green Party and the National Trust.
In 2020 we created new organic wildlife habitats next to our studio, including wild flowers, flowering trees, wildlife pond and more biodiverse grassland.
Source sustainable furniture from 2020 onwards
Zero landfill from 2020 onwards. Where we have to buy non-recyclable materials (eg plastic film packaging), we will return them to the retailer.
Support our data centre in Manchester in their move from carbon offsetting to direct renewable energy sourcing.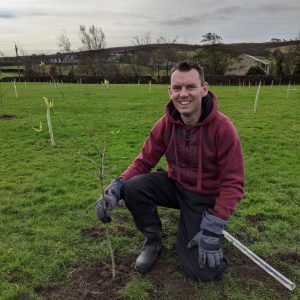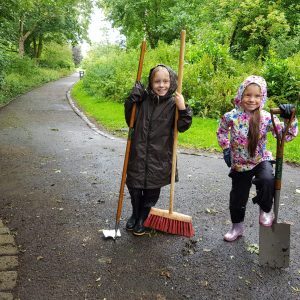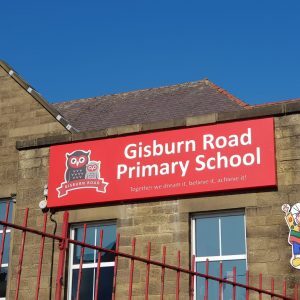 Volunteering: daily litter picks in Valley Gardens park and woodland. We aim to collect 1 bag of litter each day from Stock Beck, its banks and the surrounding parkland and paths to reduce the amount of plastic washed into the sea. Over 5,000 pieces of litter were collected in 2020. This is likely to exceed 10,000 in 2021.
Volunteering: we donate at least 100 hours of staff time each year to Gisburn Road Community Primary School as members of the Governing Board.
We have run a website club for local school children interested in developing their computing and creative skills.
Provide our skillset to local community groups across Craven.
We provide free consultations to local businesses, self-employed startups and organisations.
Over the last 5 years we have provided work experience opportunities.
We have sponsored local causes and community sports teams.
Establish a local business network and encourage clients to support each other.
Invest in staff development, including distance learning courses in 2020.
last audited January 2021
Client deposits, advance payments and overpayments are kept separate until the job is completed (or the funds returned).
Pay our taxes on time and in full.
Pay supplier bills within 1 day of receipt
Our gender pay gap is zero (pay is exactly equal).
Have a pay ceiling of double the national average salary - no-one is paid more than this amount in salary and dividends.
This year's employee salary amount is £12,500 with an anticipated dividend of £0.
Move our business banking to an ethical bank in 2021. In 2020 we moved our personal banking to Triodos Bank.
last audited October 2020
We do not tie our clients into long-term contracts - they are free to move away if they are not happy with our service.
We do not impede or charge for the process of clients moving away from our services, should they choose to leave.
We do not use spam to advertise our services.
We protect privacy (encouraging clients to avoid using intrusive third party tracking services, eg facebook pixels).
Review our clients' use of Google analytics and mapping services by the end of 2021
last audited October 2019
We only use UK- and EU-based data centres and suppliers who are compliant with GDPR.
Choose suppliers who provide local jobs in the UK. We recently moved data centres from Hertfordshire to Manchester after our previous host was bought out by an international conglomerate that offshored support staff to centres outside the UK.
Help clients evaluate their data security needs
Invest ourselves in everything we do
Try our best to understand and support our clients
Be accessible to clients for face-to-face meetings.
We do not build websites with planned obsolescence.
Use suppliers who share our values.
We don't work with companies or individuals involved in gambling, weapons, war or exploitation.
Improve our remote assistance service in 2020 so that we can help clients directly without the need to travel, should they wish.
We work family-friendly hours
We set aside work-free time to be present with our family
We set aside strict no-work holidays so that our chldren do not have to compete with emails and phone calls for their parents' attention.
We take screen breaks to maintain a healthy work-life balance.
Our new offices provide lots of sunlight, with outdoor space to take regular breaks from computer screens.
Supervision with a qualified therapist.
Reduce addiction-inducing use of apps for busines use.